With Mildura based senior consultant, Troy Muster, recently gaining accreditation as a vegetation assessor for South Australia, Pinion Advisory is now well placed to assist landowners and developers in South Australia, Victoria and New South Wales manage the approval process and assessment required for the permitted removal of native vegetation.
Prior to the regulation requiring an accredited assessor, we conducted a range of detailed assessments on three large properties in the semi-arid zone. These involved detailed native vegetation assessments to confirm the types of vegetation communities and the extent of unauthorised clearing.
Rehabilitation Management Plans on two properties were approved by the relevant Government agency. On the third property, which was completely uncleared, we did an assessment and built a case for it to be offered as a potential offset area.
Pinion Advisory's mainland experience in permitted clearing of native vegetation began in Victoria as early as 2004 with a focus on the Mallee.
Since then, the need for proponents to clear vegetation has been driven by the rapid expansion of greenfield irrigation development along the Murray River, between Swan Hill and the SA border.
We later adapted to new regulations in Victoria in 2013 and further changes in 2017. Typically, vegetation assessments include both Crown land and private land. The types of developments for which we have gained approval, to remove vegetation, include major pump stations/pipelines on a waterway, regional pipeline projects, road construction/widening, solar farms, and numerous irrigation development for almonds, vines, potatoes or citrus.
Native vegetation projects require a detailed knowledge of the relevant legislation and the underlying guidelines, supported by mapping, plant ID skills and the ability to negotiate with regulatory authorities.
Pinion Advisory offers these skills as an integrated package with a proven record of success for our clients. In addition to the native vegetation assessment, we regularly manage the approval process for our clients and often project manage other specialists that may be required on different jobs, such as an archaeologist.
If you are looking for help assessing native vegetation or considering a development that will impact it and are keen to understand how this might be managed, please contact Troy, via email, at our Mildura office or call 1300 746 466.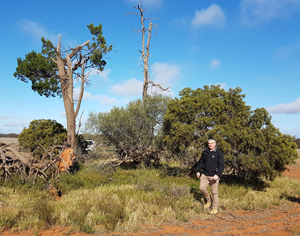 Troy Muster, Mildura office, assessing a small patch of native vegetation
for an irrigation development near Robinvale, Victoria