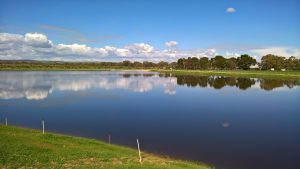 The Gawler Water Reuse Scheme is an innovative public-private partnership developed by Light Regional Council to improve access to water in the northern fringes of urban Adelaide, and the western region of the Barossa Valley, by reusing harvested stormwater from Gawler River while reducing demand on the River Murray and improving environmental outcomes.
Light Regional Council secured a $10.7 million grant from the Australian Government through the Australian National Urban Water and Desalination Plan, and an $11 million loan to fund the $22m scheme. The 7-year journey from feasibility study to commissioning faltered at the 5-year mark when the initial Private Partner and neighbouring Councils withdrew due to inability to secure water customers. But shortly afterwards Bunyip Water was created with Seppeltsfield Wines as the Foundation Customer, and then HydroPlan was appointed in March 2015 after conceiving major changes to the scheme, despite leaving only 18 months for design and delivery before the commissioning date required by the Funding Deed.
Previous tenders for a design and construction ("D&C") approach exceeded the project budget and failed to guarantee enough water would be delivered. HydroPlan utilises local construction contractors and suppliers in a design-then-construct fashion that is proven to greatly improve cost, time and quality outcomes with less risk and better overall value for money when managed well. This Gawler Water Reuse Scheme project was split into six large contracts and 100 smaller contracts, and it was commissioned on time and slightly under budget. In addition to independent design, transparent procurement, and on-site construction management services, HydroPlan operated the scheme for 18 months before hand-over.
Gawler Water Reuse Scheme Decorated with Industry Awards
The design and project management of the development of the Gawler Reuse Water Scheme has been acknowledged with three national and international industry awards.
American Society of Irrigation Consultants (ASIC) – Honour Awards, Commercial & Public Works
Institute of Public Works Engineering Australasia (IPWEA) – Excellent Award – Design and/or Construction of Public Infrastructure (Water)
Water Industry Alliance (WIA) – Smart Water Award – Alliancing High Commendation